Federal Debt Management Office
T-Sukuk: Local Currency Islamic Sukuk Issuance
With the UAE's thriving economy and strong credit standing from major international rating agencies, the Islamic T-Sukuk issued by the federal government offer opportunities for local, regional, and global investors who are looking to diversify their investment portfolio.
Legal Disclaimer: Not for distribution, directly or indirectly, in or into the United States
T-Sukuk are Islamic Sharia-compliant financial instruments issued by the federal government of the UAE denominated in the Emirati Dirham (AED). The primary objectives of local currency Islamic Sukuk issuance is to:
support the establishment of a Sukuk capital market in local currency and to tap the growing global Sukuk market,
raise funds for the federal government from a broad base of local and global investors,
offer liquidity to finance strategic development programs and projects, and
cement the UAE's position as a global investment hub and lucrative investment destination in the Islamic economy
Local currency Sukuk issuance will help diversify funding sources and minimise dependency on the foreign capital markets; expand the investor base for local currency Sukuk which helps reduce exposure to rollover and foreign exchange fluctuation risks; provide the local investors with an opportunity to invest in local government securities in the UAE dirham; and provide alternative financing resources for the private sector, as well as banks and financial institutions in the UAE.
Islamic T-Sukuk are asset-backed Islamic Sharia-compliant financial instruments whose profit and payment at maturity mainly rely on the performance of the issuer's assets. Purchasing T-Sukuk means lending the federal government (Sukuk issuer) an agreed amount of money for a specific period of time. In return, the investor (Sukuk holder) receives periodic profit payments from the government. The Sukuk issuer fulfils its debt obligation once the Sukuk reaches its 'maturity date' or the date on which the Sukuk's principal amount, known as the 'face value' or 'par value', must be paid in full.
The government issues T-Sukuk. The investor subscribes to the issuance and purchases the Sukuk's issue price
Profit payment to investors
The government makes periodic profit payments to the investor
When the Sukuk reaches maturity, the government repays the face value, including outstanding profit
The below diagram illustrates some of the structural aspects and cashflows of the Sukuk offering: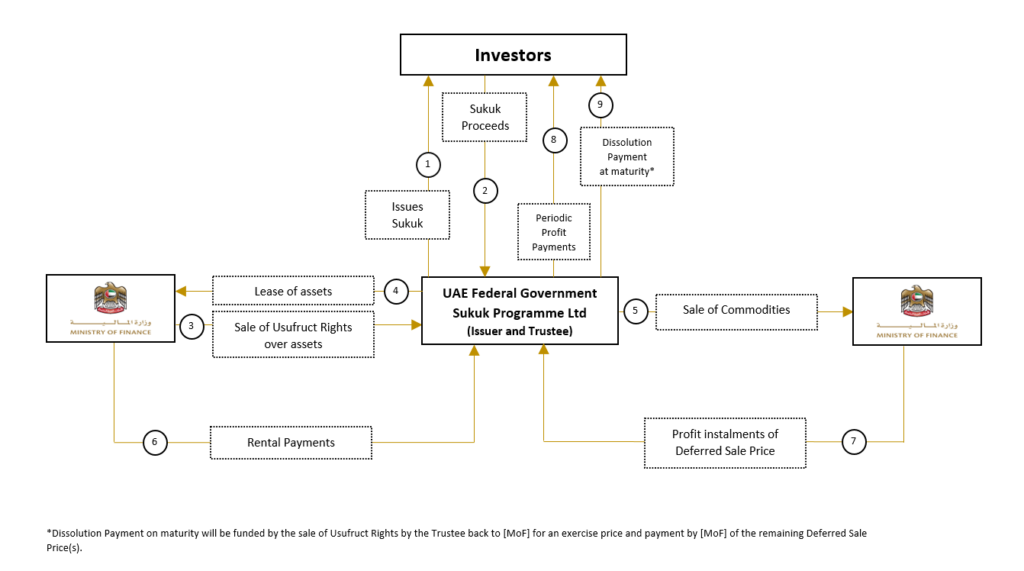 Benefits of building a yield curve in dirham for the UAE economy
Ability to cover future funding needs in own currency
An actively traded government Sukuk market contributes to efficient pricing and capital allocation
An active government securities market develops capital market and provides safe investment assets
Provides opportunities for foreign investors to invest in local currency
Frequently Asked Questions
To provide further information about the UAE government Islamic T-Sukuk, we have gathered the most frequently asked questions for your reference.
Relevant Resources on the UAE T-Sukuk Programme
UAE T-Sukuk Programme Information Memorandum
UAE T-Sukuk Programme Tender Process Rules
UAE T-Sukuk Programme Primary Dealer Code
UAE T-Sukuk Programme HSA Fatwa